At Inner Ecology™, we carefully select the highest grade medicinals available for your formula. We carry well over 300 medicinals of plant, animal and mineral origin in both raw and granular forms that are available for custom-mixing to your clinician's specifications.
Sourcing superior quality medicinals that have been cultivated, tested, processed, packaged, transported, and stored with attention to safety, fair labor practices, and sustainability has been a primary concern of ours from the start.  Inner Ecology actively seeks suppliers who cultivate direct relationships with growers and who demonstrate real investment from soil to shelf.  We also engage directly with North American professional farmers who are amongst the pioneers in the domestic cultivation of traditional East Asian medicinals.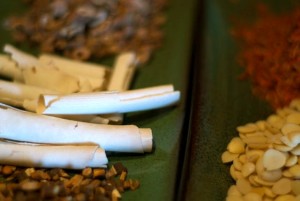 Inner Ecology sources our raw and granular medicinals from the most well-established and highly reputable wholesale distributors in the industry.  We maintain an engaged dialogue with each of them in order to ensure that we are choosing the best possible option for each of the hundreds of medicinals we maintain on the premises. These distributors rigorously test each herb to guarantee purity, potency, and safety.  We are good at asking questions, procure our medicinals from distributors that are likewise good at asking questions, and we invite you to ask them of us too!

One of many reasons that we at Inner Ecology prefer raw and granular medicinals over patent pills or tinctures, is because they invite us to examine them carefully with our eyes, our hands, our noses.  As the medicinals arrive to us, we follow time-honored traditions of organoleptic ("sense-derived") analysis in order to further confirm their cleanliness, freshness, and accurate identification. We trust that the scent, sapor, and color of Inner Ecology medicinals will likewise seduce your senses and support your sustained well-being.
Fun fact: our logo was designed in an online competition that involved hundreds of designers and lasted nearly one month. Long into the final handover process with our chosen designer, we learned that GiaKenza was a clove farmer in Indonesia and created our logo in the middle of harvest season.  "Cloves?!  As in Caryophilli Flos?" we asked him.  Surprised and delighted, we took this as yet another reminder of what a small and interconnected world this truly is and thought he certainly deserved special mention!  You can see him hard at work below.