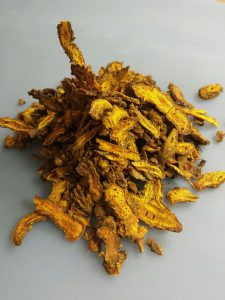 Inner Ecology takes seriously our responsibility to provide you with the highest quality raw and granule herbs available on the market today. We strive to make our selection process as transparent as possible to our current and potential customers. To further that goal, we offer this quality standards statement that outlines the many variables that we consider with care when sourcing both raw and granular herbs to be sold through Inner Ecology.
We are in continual contact with our suppliers to ensure that we understand their procedures for cultivating, harvesting, and testing the herbs that we ultimately stock at Inner Ecology. Through this ongoing communication, we are able to convey our priorities—and the priorities of our customers—in relation to the quality, safety, and sustainability of the herbs we carry. It is this type of work that allows our industry to grow and change in the direction of higher quality health care for your patients.
We carefully evaluate each raw herb that we stock for a variety of quality criteria, listed in more detail below. In each case, we choose the highest quality herb available from the suppliers that we know carry out due diligence via accurate herb sourcing and rigorous lot testing. In our database, we maintain records of each herb's origin and its testing history—officially known as the herb's Certificate of Analysis —so that we may study, compare, and reference those records when making our quality assessments.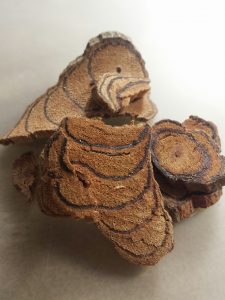 In addition to the tests completed by our suppliers, the herbs we carry also undergo in-house organoleptic testing when they reach our formulary. We compare the physical herbs to their descriptions in published references by the leaders in the field of East Asian herbology. We note any variation in appearance, texture, or cut, and we taste them to ensure that their flavors match those determined in traditional texts.
Attention to these details allows us to offer our customers the cleanest, most vibrant, and safest version of each herb available on the market today. We take pride in bringing you the herbs that most closely represent how they have been used in East Asian medicine for many hundreds of years, in turn allowing for reliable clinical effectiveness.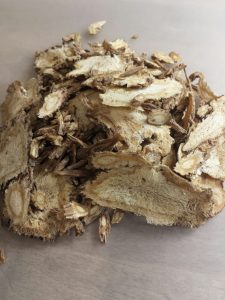 Origin

Since a vast majority of raw herbs are still grown in Asia and then shipped around the world for use, we verify where our herbs are grown down to their province of origin. Inner Ecology prefers herbs that are grown in areas listed as "best quality originates from" by leading scholars in the field. The domestically cultivated raw herbs that we carry are bought from local growers who provide extensive information to us about their farms. Domestic herbs are purchased from regions of the U.S. that closely resemble their natural habitats in Asia. We accept them only if they have been developed using approved seed or starter plants from suppliers who can verify that the source material is the correct species and variety to produce the traditionally accurate medicinal herb.

Identification

Inner Ecology accepts and sells only herbs that have been unequivocally identified as the correct species and plant part to qualify as that particular herb. Identification may be accomplished by organoleptic testing, microscopic analysis, or a combination of those two methods. We reference the latest in herbal standards to ensure that we have procured the accurate herb, including the Pharmacopoeia of the People's Republic of China. Domestically grown herbs are identified in-house by Inner Ecology personnel using organoleptic comparison.

Growing Conditions

We always prefer natural growing conditions for the raw herbs stocked at Inner Ecology. Organic certification by the USDA National Organic Program (NOP) provides a good basis for more natural methods of growing herbs, so we do accept and sell herbs that have been certified organic. Whenever possible, we aim for ecological cultivation, an even higher growing standard than organic. This type of growing mimics the wild conditions in which herbs naturally grow.  Ecological cultivation techniques include intercropping of mutually dependent plant species, minimizing soil disruption and additives, sustaining and enhancing mycorrhizae, and otherwise replicating the long-term biological complexity found in nature. Domestic farmers growing East Asian herbs for Inner Ecology are trained in the use of ecological cultivation methods.

Pesticides

Inner Ecology strongly prefers herbs that have been tested for a wide array of pesticides and have been found to contain no pesticide residue. We stock raw herbs that have been tested for at least 130 pesticides, and which have typically been tested for many more. If specific pesticides are known to be commonly used on the particular plant from which an herb originates, we take extra time with our research. In these cases, we ultimately prefer herb lots that have been tested for plant-specific pesticides in addition to solely for the standard panel of chemicals.  We ensure that the domestically grown herbs we carry are not exposed to pesticides during their cultivation. Unfortunately, we are not always able to identify raw herbs from Asian sources that have been tested for a comprehensive panel of pesticides. In that case, rather than not offer the herb at all, we offer the best quality version of the herb currently available on the market. We label those herbs on the

secure clinician portion of our website

as "potential pesticide residue" in order to alert our customers to their difference.

Sulfur

While raw herbs entirely free of sulfur are obviously preferable, they can be difficult to obtain in the current international herb market. Even if sulfur has not been added to the herbs by growers, environmental sulfur sometimes makes its way into the final product. Therefore, Inner Ecology strongly prefers herbs that have been tested for residual sulfur residue and found to contain sulfur well below the current FDA maximum of 10 parts per million. In the event that we cannot find a source that meets this standard, we will accept and sell herbs with marginally higher sulfur content. Inner Ecology and its partners in farmer training actively discourage domestic growers from the use of sulfur altogether.

Heavy Metals

Especially in this time of ecological degradation and soil contamination across the globe, Inner Ecology strongly prefers raw herbs that conform to current standards of heavy metal testing. Many of the raw herbs we carry have been tested for heavy metals, and they meet or exceed current minimum safety standards set by the European Pharmacopoeia for levels of lead, cadmium, and mercury. Unfortunately, directly testing herbs for heavy metal content is not the industry standard at this time. Another way to ensure safety is to test the liquid from herbal decoctions to see if heavy metals have leached into the water during cooking. Herbs at Inner Ecology that haven't been directly tested for heavy metals have been tested by this method, and they are safe when used as intended, namely in an herbal decoction.

Microbial Life

In the interest of keeping our customers and your patients free from dangerous microbial organisms, Inner Ecology strongly prefers herbs that that have been tested for microscopic life. Many of the herbs at Inner Ecology have been tested for yeast, mold, E. coli, Salmonella, and total plate count, and have been found to meet or exceed current minimum safety standards set by the Chinese Pharmacopoeia. To be clear, when a particular lot of a raw herb is tested for microbial life, it can only be spot-checked; that is the industry-wide standard. As a result, the entire lot can be described as most likely free of microbial organisms, but not guaranteed as such. For this reason, Inner Ecology sells raw medicinal herbs only for use in decoction, as food or other preparation that involves cooking, or for use in topical preparations. Please contact Inner Ecology for more specific guidelines about the proper preparation and use of East Asian medicinal herbs.

Granules

Inner Ecology strongly prefers granules that have been shown to be free of sulfur, pesticide residue, heavy metals, and harmful micro-organisms. Many of our granules come from raw herb sources that have GAP (good agricultural practices) certification or have been ethically wild-crafted. Inner Ecology staff has performed organoleptic testing on granules from many different suppliers, and compared them to decocted raw herbs, in order to offer the most potent, authentic-tasting granules available.In addition, our staff has thoroughly researched ingredients added to granule herbs to ensure that they are as safe and hypo-allergenic as possible. The vast majority of our granule herbs use a medical-grade, hypo-allergenic excipient derived from non-GMO starch. Exceptions are listed on

our website

for easy customer access to allergen information.

Other Considerations

In addition to proper sourcing and testing of our herbs, Inner Ecology takes great pains to ensure that packaging, storage, compounding, and cleaning in our cGMP-compliant facility all reach the highest standards possible while protecting the health of our employees and the environment. Herbs are shipped to us in sealed plastic containers to prevent contamination during travel. They are then stored in a temperature-controlled environment accessed only by Inner Ecology staff to ensure the cleanliness and organization of the formulary. Our cleaning procedures meet requirements set by the FDA in their specifications for current Good Manufacturing Practices (cGMP). All Inner Ecology cleaning products and outgoing packaging are free from harmful chemicals; in addition, our packaging is entirely compostable ensuring that it has a productive life after its initial use.

We hope that this quality statement provides you with an idea of the characteristics we look for in the herbs Inner Ecology offers.  As always, we welcome the opportunity to answer your questions. We invite your ongoing partnership with us in evolving the quality of conversation and of herbal supply.